Free-Wings home+
home+ is the brand launched by Free-Wings in year 2012. home+ specializes in home living products of simple, modern, stylish and quality to value. Our product line is coverage from cooking to dining and also other utensils enriches the kitchen to home.
Simple for...
Our product line is selected from basic concept which is essentials in kitchen and home.
Stylish & modern for...
We specialize in the hottest products and keep on the new style for the market trend for our product line in every month.
Quality for...
We have own quality control system to monitor and ensure the safety standard.
We aim to provide full range of merchandises with extra-value for home.
Now we are promoting our brand to South Europe and Southeast Asia and our goal in coming year 2014 is planning to expand our product line to be more attractive and comprehensive.
Let's explore these latest home+ product collections with us.
E-Catalogue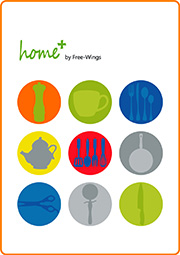 General Enquiry
We welcome any suggestion and questions to our service. You can reach us of contact method at This email address is being protected from spambots. You need JavaScript enabled to view it.